Falkirk Grounds
Part Four - Brockville Park
Falkirk returned to Hope Street in 1884 to the newly named Brockville Park which would become home for the next 119 seasons. The club initially secured a six year lease and started making improvements building a three foot wire fence around the perimeter and raising part of the pitch to make the ground more level. A year later a club house was built which included a changing area and a bathroom with wash basins.
Shortly after the turn of the century, a new grandstand was built with a seating capacity of 700. However, on 17th February 1907 a fire broke out in the early hours of the morning which completely destroyed the stand. The damage was estimated at £1,000 and the stand was rebuilt later that year.
In 1921, the board of directors secured the purchase of the ground at a cost of £1,500. At this time the club also secured additional land behind the main stand for the purposes of future expansion. Plans at the time included moving the main stand and pitch further west in order to create additional space for terracing on the east side of the pitch. It was estimated that the ground would be able to accommodate between 30,000 and 35,000 spectators and that it would be one of the finest provincial enclosures in the country.
The first major ground improvements were in place for the start of the 1926-27 season. Terracing was installed adjacent to the north end of the main stand and at the north end of the pitch behind the goals. The terracing behind the south end goals was also improved. These improvements increased the ground's capacity by about 3,500.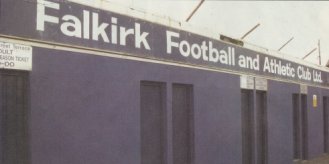 Brockville was developed further for the start of the 1928-29 season. A new grandstand was constructed at the cost of £7,600. At the time the stand was regarded as the best in the country amongst the provincial clubs. The stand was built with no less than 300,000 bricks and was 315 feet long. There were fifteen rows of seats running along the stand's entire length, giving accommodation to 3,000 spectators. Underneath the stand changing rooms for the home and away teams with plunge baths for each were built along with a spacious gymnasium, drying room, trainer's store, referee's room with bath adjoining, linesmens' room, cash office, store, board room, manager's office, refreshment room, kitchen and boiler house. A press box was also situated at the rear of the stand. Also installed at this time was the iconic turnstile entrance at the Hope Street end and a new brick wall along the Cooperage Lane end.

Further improvements were made to Brockville in time for the start of the 1953-54 season when floodlighting was installed. Brockville was in fact the venue for the first televised floodlit match in Scotland when Falkirk met Newcastle United in a friendly match in October of that season.