A Brief History
Part One - Origins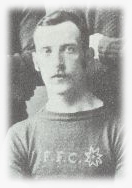 Falkirk Football Club were formed in 1876...or 1877 depending on who you believe. Club director in the 1970's Willie MacFarlane states in the club's centenary brochure that when "searching through other old records there is a mention that the nucleus was formed, in fact, in 1876, when a few enthusiastic local youths actually set the ball a-rolling". A series of articles published in the Falkirk Mail newspaper in 1942 contain quotes from the club's secretary in the 1880's, Robert Bishop, who contended that the club was formed in 1877. The club also held its Silver Anniversary Dinner in March 1902 which would also suggest a formation of 1877. It is also known that in March 1876 there existed only three football clubs in the Falkirk parish area. These were Midland Juniors (Greenhill), Bonnybridge Grasshoppers and Bonnybridge Star. These clubs played Association rules football. Another local club, Grangemouth, played rugby style rules.
One possible theory is that the club was started by a group of men who were all freemasons. A look at the club shirt in a couple of early photographs shows two symbols related to freemasonry. The first from around 1880 is a simple design of a sun with a distinct point in its centre. This could represent an eye in the middle of a sunburst. The second, from 1883, is that of a maltese cross, another well known symbolism relating to freemasonry. It should be stated that the details of this theory require more research before it can gather some credibility.
The club played their first ever match away from home versus local side Bonnybridge Grasshoppers. The Bairns lost this match but a fortnight later they drew the return fixture at their home, Hope Street, which resided on the site of the former Brockville Park. At this time the pitch at Hope Street had a distinct slope which ran from South to North (i.e Cooperage Lane to Watson Street) and had hedges around its perimeter. The club payed an annual rent for the ground of £12 to a local farmer George Morrison who owned the ground.