Falkirk Grounds
Part Five - Ochilview Park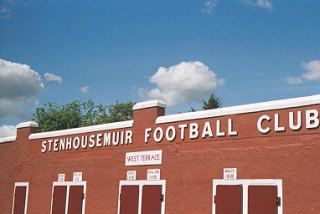 After the sale of Brockville Park, Falkirk were temporarily without a pitch to play on while the club's new stadium was being built. For season 2003-04 near neighbours Stenhousemuir allowed the club to play at their ground - Ochilview Park.
To accomodate the Falkirk support, Falkirk erected a temporary stand at the east end of the ground with a capacity of 1065. Another temporary stand with a capacity of 400 was also erected at the north end of the ground for away supporters. This brought the total capacity of the ground to just over 5000.
The record attendance for a Falkirk home match at this ground is 4,747 and occurred when playing Aberdeen on Saturday 7th February 2004 in the Scottish Cup.
Ironically, parts of the terracing roof from Brockville were installed by Stenhousemuir behind the goals at the west end of Ochilview but unfortunately the new roof came a season too late for Falkirk supporters to enjoy as the club prepared to move into the newly built Falkirk Stadium for the start of season 2004-05.