A Brief History
Part Three - Early Success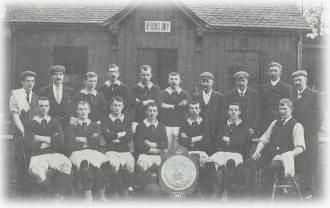 In season 1902-03 Falkirk were elected into the Scottish Football League and began to play football at a national level. In their first season the Bairns finished sixth equal in Division Two finishing above Clyde and Abercorn who had been league members for several years. Falkirk also finished above local rivals East Stirlingshire who had been elected to the SFL the previous season.
In March 1905 a proposal to amalgamate the club with East Stirlingshire was put on the table. After a lengthy debate it was decided to vote in favour of the proposal. The club had some debts and it was felt that a new club would be strengthened both on and off the pitch. The East Stirlingshire vote was not as clear cut as the Falkirk one and the Shire were undecided on the issue. Shire chairman, John Rutherford, was left with the casting vote and it was his decision that East Stirlingshire should remain a separate entity. Falkirk completed the season, finished as runners-up to Clyde and gained election to Division One. Shire remained in Division Two.
In 1905, the club was registered under the Companies' Act as the Falkirk Football and Athletic Club Limited. The first board of directors was formed and William 'Daddy' Nicol was appointed secretary/manager. Nicol would become the longest serving manager in the club's history and would take the club to its highest ever position.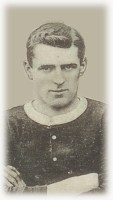 The Bairns improved upon their position in the league each season until 1907-08 when they finished as runners-up to Celtic. Falkirk broke the 100 goals barrier in the league campaign, the first Scottish team to do so. Jocky Simpson (pictured left) bagged 32 goals which made him Europe's top goalscorer. Jocky would have been awarded the Golden Boot had it existed then! Falkirk came close to winning the league title again in 1909-10 when they finished as runners-up to Celtic again.
The Falkirk team from this era continued to be successful and won a lot of difficult matches. The last of these was the Scottish Cup Final of 1912-13. The match with Raith Rovers was the first final since 1896 that did not feature a team from Glasgow. Falkirk ran out 2-0 winners and scenes of jubilation were witnessed throughout the town. It was fitting that this team should win the highest honour in Scottish Football at the time.