A Brief History
Part Five - Forties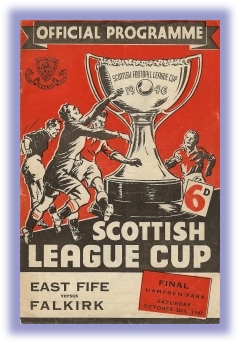 During the Second World War, Falkirk played in the Scottish League Southern Division which essentially consisted of the major clubs in Scotland's central belt. The club won about as many matches as they lost and generally finished mid-table during these seasons. In 1942-43 the final of the Southern League Cup was reached but the cup wasn't won on account of having earned a smaller number of corner kicks than opponents Rangers. During this period several highly regarded players featured for the Bairns including Archie McAuley of West Ham United and Charlie Napier of Sheffield Wednesday.
After the war ended, the Scottish League was properly resumed in season 1946-47 and one season later Falkirk made an impressive start to the league campaign. Falkirk were genuine title contenders with only one league defeat before the turn of year. The club had also reached the final of the Scottish League Cup only to be defeated in a replay by East Fife at Hampden Park. After New Year, however, a loss of form saw the club fall down the league and eventually seventh place was the best that could be achieved.
The club improved upon their league position in 1948-49 achieving fifth place and denying Dundee the championship on the last day of the season by way of a 4-1 victory. The end of this season could be regarded as a turning point in the club's fortunes. Whereas before Falkirk regularly finished in the league's top ten, only rarely have they achieved such high positions since.