A Brief History
Part Four - Between Wars
The outbreak of the First World War greatly affected football from 1914 to 1918. Attendances dropped and the club suffered a greatly reduced income. Six Falkirk players enlisted in George McCrae's 16th Royal Scots Battalion and three were wounded in action. At this time it was common for footballers to 'guest' for other teams depending on where they were posted in the country. Falkirk saw the return of the legendary Jocky Simpson and also had the pleasure of having England international Syd Puddefoot play for them.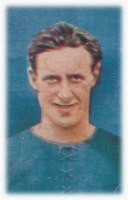 After the war Falkirk struggled to make the same impact in the league as they had before it. Then in February 1922, Falkirk hit the headlines as the club broke the world transfer fee record. Syd Puddefoot (left) was brought to Brockville from West Ham United for £5,500 after supporters donated the huge amount of money to the club. It is said that the Bairns could have gone as high as £6,000 had they needed to!
In the period that led up to the Second World War, the club saw some fine players including Tam Ferguson who clocked up 495 appearances in goal, Patsy Gallagher who was considered by many to be one of the most gifted footballers in the game, Evelyn Morrison, scorer of 43 top flight goals in one season and Kenny Dawson who is Falkirk's all time top goalscorer with 229 goals.
During this period Falkirk regularly finished in the top half of the league and reached three Scottish Cup Semi-finals. Only once were they relegated to Division Two and even then they won the league at a canter scoring 132 goals in 34 games. Cruelly though, just as manager Tully Craig had built a side capable of making a challenge for the league, war broke out again. As a consolation the club won the East & North regional league title in 1939-40 but lost to the West regional winners, Rangers, in a playoff match for the championship.