A Brief History
Part Seven - Underachieving Bairns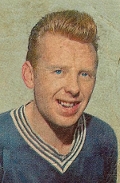 Season 1960-61 saw the club earn promotion back to Division One, albeit as runners-up to local side Stirling Albion. It had been the club's second attempt at escaping Division Two and the season previous had brought about a final league position of 26th in Scotland - the worst in the club's history to date!
The club remained in the top flight until the end of the decade but were constantly in danger of facing the drop. Season 1965-66 saw the club achieve a relatively safe position of 10th but during the sixties they never managed to emulate clubs of similar stature such as Dundee, Kilmarnock & Dunfermline Athletic who presented a formidable challenge to the Old Firm.
Highlights of the decade included a 7-3 win over Clyde in 1962 where Hugh Maxwell (pictured) scored all seven of Falkirk's goals and a remarkable 6-2 win over Celtic at Brockville in 1965. To this day, Falkirk remain the last club to score six goals against the Glasgow side.
Falkirk were relegated again at the end of season 1968-69.
The Seventies started well for Falkirk as they earned their second Scottish League Division Two title, pipping Cowdenbeath by a single point in season 1969-70. The following season the club achieved a creditable position of 7th, their highest since 1949. This achievement won the club a place in the following season's Texaco Cup.
Success was shortlived however as relegation came again. Falkirk won the Scottish League Division Two again but remained in the second tier of Scottish Football as league reconstruction took place at the end of season 1974-75. The club celebrated it's centenary season in 1976-77 and hopes were high that the club could return to the top division, however the club should have taken heed of their unofficial motto 'Expect the Unexpected' as the club suffered the ignominy of dropping to the third tier of Scottish Football.
It took three attempts to escape the Scottish League Second Division. When Falkirk finally earned promotion in season 1979-80 it was by no means convincing and it took two late goals on the final game of the season to win the championship from local rivals East Stirlingshire. This spell in Scotland's third tier saw Falkirk's lowest ever league position - 29th in Scotland.